Even though the majority of people in Indonesia are Moslems, there is cultural diversity in any part of life such as tribes, races, languages, and religions.
The most largest churches in Indonesia prove how distinct cultures in this archipelago do not negatively influence the existence of a certain religion, Christianity in this case.
Moreover, it enriches Indonesia's cultural heritage.
1. Bethany Church of God
The first largest church in Indonesia is located in Surabaya. The name is Bethany Church of God or in Indonesian it is called Gereja Bethany Surabaya.
The history of Surabaya tells that this church is not only the largest church in Indonesia but also the oldest, as it was built in 1977.
This church was built by Pastor Abraham Alex Tanusaputra.
This church is situated on Jl Manyar Rejo I/28, Surabaya and it is part of Gereja Bethel Indonesia (GBI), a protestant community in Indonesia. Gereja Bethany Surabaya can hold 36,000 people!
No wonder this church also becomes the biggest first building in Southeast Asia.
2. Gospel of the Kingdom Church
Located in the Grand Marina cluster area, specifically at Jalan Arteri Utara in Semarang, Gospel of the Kingdom Church or JKI Kerajaan Allah holds three church services.
Each service can be attended by 6,000 people! When first used in 2007, this church can accommodate 12,000 people inside the building.
Like its name, JKI Kerajaan Allah has a mission to gather people within God's affection and love. The pastor who leads the people in God's way is Petrus Agung Purnomo.
3. Indonesian Bethel Church of God of Rose of Sharon
Indonesian Bethel Church of God of Rose of Sharon or GBI Mawar Sharon is located in Kelapa Gading area, one of the hangout places for K-Pop Fans in Jakarta.
The first step to build this one of the most largest churches in Indonesia was by buying the area in 1993.
The first block was placed in 1996 by Pastor David Yoggie Cho. It was also Pastor David Yoggie Cho himself who inaugurated the church.
This third most largest church in Indonesia can hold 3,000 people.
Back, in 2004, this church was expanded and now it has 10,000 people's capacity with five church secretariats, five evangelist schools, and educational chambers on the fifth floor.
4. GBI Family of God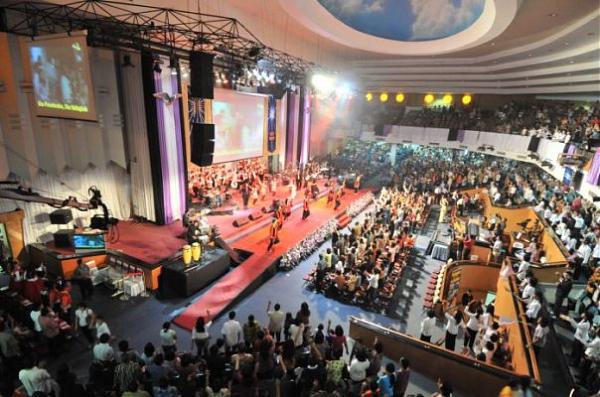 GBI Family of God, which is commonly known as Gereja Bethel Indonesia Keluarga Allah Solo was built in 1989.
The first time it was developed, there were only seven people gathered and prayed in Pastor Obaja Tanto Setiawan's house.
As the number of the people grew, he thought about building a new church, which is located at Jalan Sutan Syahir 88.
This church is not only huge, but also popular. There are many television and radio stations that broadcast the church activities such as FM EI Shadai and TA TV.
This building can hold 30,000 people with the main hall is used for 5,000 seats and 20,000 additional seats surround it.
5. Indonesian Reformed Evangelical Church
Located in Jakarta, one of the famous cities in Indonesia, Indonesian Reform Evangelical Church, which is also known as Gereja Evangelis Reformasi Indonesia is gigantic and unique.
The building has a roof that is similar to a dome. The area in which the church is built is around 13,000 m2.
In this one of the most largest churches in Indonesia, there are two main halls, which are named Katedral Messiah Hall dan John Calvin Hall.
The first hall is on the fourth floor and it can hold 5,000 people. While the second hall is on the first floor and it can hold 3,000 people.
Other rooms in this church are also used for English and Chinese language learning.
6. Bethel Tabernacle Alfa Omega Church
Placed in the same city as one of the best state universities in Indonesia, Diponegoro University, Semarang, Bethel Tabernacle Alfa Omega Church has a huge building. The area covering this church is 900 m2.
Even though it is not as large as the previously mentioned church, Bethel Tabernacle Alfa Omega Church is still the largest church in Semarang. 
This church was built in 2006, then the development finished in 2009. It means it took three years to build this large church!
The fund was gathered from the congregation's donation. This church can hold 5,000 people inside.
7. GBI Basilea
GBI Basilea is also known for Katedral Kristus (Christ Cathedral) Serpong which is located near Summeareon Mall Serpong, one of the instagrammable Mall recommendations in Jakarta.
This building has 2,500 seats, but usually, there are 3,000 people pray in this church. This church's service times are at 8 a.m., 11 a.m., and 5 p.m.
Christ Cathedral GBI Basilea has a friendly and modern atmosphere for kids and teens.
It also holds creative events such as SHE Conference, an annual sisterhood gathering, and When Heaven Invades which invited Bill Johnson, Ben Armstrong, and Brian Simmons in the 2019 event.